Featured Gay Campground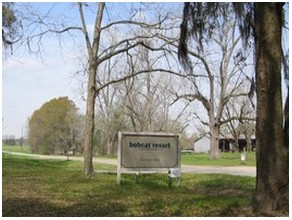 Bobcat Campground Resort
1877 Hickory Head Road
Quitman, Georgia (Valdosta area)
31643
Phone: (229) 263-4300
mail@bobcatresort.com
NOW CLOSED
The cat is back! After a brief absence, Bobcat Resort has re-opened, and Gay Camping USA is pleased to showcase this wonderful spot as our featured gay campground.
Located approximately a half hour west/south west of I-75 at Exit 16 (Valdosta/Quitman exit), Bobcat Resort is a private, gated, membership only, 21+, alternative lifestyle campground for RV's and tents on 256 acres. This very pretty and meticulously maintained campground is gay owned and operated, and caters to both to gay and lesbian campers. The entire campground is clothing optional, is gated and fenced and very discreet.
With over 250 widely divergent acres, Bobcat Resort is the largest residential GLBT campground resort in the southeastern USA, and one of the largest RV resorts of its kind in the country. In addition to spacious RV sites (including a large number of pull through sites) Bobcat also offers full service cabins to rent, private rental rooms, bunkhouse accommodations and tent sites. The property is open year round, making it a perfect stop for those fleeing the frozen north on their way to Florida in the winter months, or for those snowbirds making their way home. It's almost guaranteed that even though you may have plans to only stay a night or two, the beauty of this park and the southern hospitality extended to campers by the campground's owners will tempt you to stay longer.
Bobcat attracts a wide age range of young and mature adult visitors, with something to appeal to any age group. There are no maddening crowds found in many other GLBT campgrounds, and the setting is truly beautiful.
The property is a delightful blend of landscaped tropical gardens, gently rolling green meadows, thick woodlands, placid fish ponds, peaceful trails, wide greenways and a large pristine wetland called Stanley Bay. The property is also abuzz with wildlife, particularly during the fall and winter seasons. Deer, fox and otters are a common sighting, especially at dawn and at dust. Flocks of egret, heron, wood storks, as well as owls and red-tailed hawks frequent the entire property. In the remote area of the Stanley Bay section of the property, alligator and wild boar can be found.
The poolside entertainment area is very tropical - with tall banana trees, fragrant gingers, lacy papyrus, flowering canna lilies, gigantic elephant ears, and many other tropical plants. The rest of the property is filled with native flora and fauna. Adjacent to the pool area is a small cafe which is operational later in the season. Also next to the pool area is a large shower house and restroom facilities, which also offers laundry facilities. The poolside entertainment area and the RV Park are the main social gathering places at Bobcat. There is also a cozy Clubhouse which is condusive to simply relaxing, or making new friends if you wish. The Clubhouse features a pool room, a card playing/gaming room and a TV lounge with a wood-burning fireplace. Bobcat plans to build a fully "covered" front deck on the poolside of the new Clubhouse deck during the spring/summer season of 2010.
| | | |
| --- | --- | --- |
| | | |
| | | |
| --- | --- | --- |
| | | |
The property is very RV friendly. The road leading into Bobcat Resort is paved, wide and fairly level and the roads within the park is well graded and kept in good maintenance. Tree canopies over the roadways and RV sites are trimmed regularly to provide good clearance for all RV's, including "big rigs" - so you won't risk losing your air conditioner or ripping a gaping hole in the roof of your new fifth wheel in this campground.
Winters at Bobcat are generally short and mild. Daily winter temperatures in this part of Georgia are typically warmer than in the nearby cities of Tallahassee and Gainesville, FL. Spring and autumn seasons are both fairly long, pleasant and filled with rich seasonal color. Summers here are typically sunny and hot.
The location of Bobcat Resort can't be beat. Bobcat is conveniently located close to downtown Quitman, Georgia, where local services are available, and is less than a half hour drive from both Thomasville and Valdosta. Big city amenities can be found in nearby Tallahassee, FL, which is less than an hour away. Interstates 10 and 75 are within 25 miles, making Bobcat easily accessible from the Jacksonville, Atlanta, Tampa Bay and Orlando areas.
One note about Quitman, Georgia - this is a quaint and charming southern town, with many historic homes along North Court Street, which is located behind the Brooks County Courthouse. Quitman is reknowned as one of the antique meccas of the South. Numerous antique stores can be found in the downtown area. Quitman also has a pharmacy, two grocery stores, a few convenience stores, several fast food chains, a few local (good) restaurants, several gas stations, doctors and a hospital. A visit to Quitman is a must while you are staying at Bobcat.
Note: Brooks County is a dry county. Although beer can be purchased in nearby Quitman, the closest town where wine and hard liquor can be purchased is Valdosta. Several restaurants in Quitman are allowed to serve hard liquor, however.
Amenities at Bobcat Resort:
70 "big rig friendly" RV sites
poolside Clubhouse w/ Fireplace
full service cabins
private rental rooms
bunkhouse accommodations
tent sites
in-ground pool with sun deck
hot-tub jacuzzi
clean rest rooms
laundry facilities
fishing ponds

entire property clothing optional
adult playroom
several hiking trails
free WI-FI service with wide hot-spot
Free RV dump station on site
Although purchase of a yearly membership is required, Bobcat is currently featuring an annual membership discount where you can receive two memberships for the price of one when two people are joining together. An annual membership is $10, and memberships are good for 365 days. Bobcat also offers work/camper opportunities and permanent sites are available. Come for a day, a week, a month or stay for a lifetime. Regardless of how long you plan on staying, Bobcat Resort is worth a visit.
Do you know of a great gay campground in the USA you'd like to suggest as a featured campground? Let us know - leave a comment below.
Other Featured Gay Campgrounds
Roseland Resort, West Virginia
Sawmill Camping Resort, Florida
Comments:
comments powered by